LanguageLine gives back
LanguageLine gives back
We're proud to work with Trusted Supplier LanguageLine; an organisation providing on-demand and onsite language interpretation and document translation services (in over 240 languages and dialects).
The team at LanguageLine are not only constantly looking for ways to innovate within their technologies, but also for ways to 'give back'. It's with this in mind that they decided to launch LanguageLine gives back.
---
Recognising their direct responsibility to the communities in which they operate in, the team wanted to be able to maximise the social value potential in these groups, building a positive legacy and demonstrating that business done well can be a force for good.
The team at LanguageLine have been passionate about helping tackle social inequality and access to services/ work since the company's formation, and are keen to continue that legacy by volunteering their time and effort to local communities.
The goal of LanguageLine gives back is to make positive and sustainable change in areas such as: environmental protection, socio-economic disparities, improving physical health, communal access to opportunities and, improving access to mental health/wellbeing support.
One of their recent blogs looks at their visit to the British Transplant Games as part of this initiative.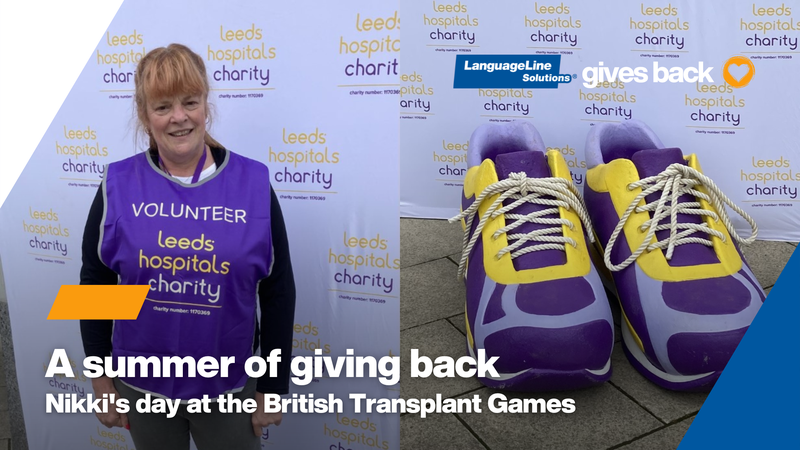 Kennedy Adamu, Marketing Manager at LanguageLine, explained: "The whole idea of social value (and eventually transforming into LanguageLine Gives Back) came to fruition due to a handful of factors. We believe it's the right and responsible thing to do.
"We also wanted to improve our work culture, which has needed more team cohesion after the pandemic. As a result, providing more volunteering opportunities would improve staff morale and mental health, whilst also improving the lives of the communities. And considering social value is a key aspect in all manner of contracts, we wanted to make sure as a company, we were staying competitive. It's been orchestrated by a small team at LanguageLine and has already made quite an impact with staff and clients. And the best thing about the program is that its continually growing!"
Helplines Partnership's Lead for Trusted Suppliers, Laura Dowswell, said: "It's initiatives like these that make us so pleased to work with LanguageLine. Their commitment to the third sector with this latest campaign shows their values which align so closely with our own and have led us to forge this strong working relationship over many years."
---
At Helplines Partnership, have been committed to supporting organisations that provide non-face-to-face advice, support and information to improve general wellbeing for over 20 years. We champion the interests of our members and help them to build sustainability and deliver the best service they can for their users.
---