Annual Conference and Helpline Awards Ceremony 2022
Annual Conference and Helpline Awards Ceremony - 3 November 2022
Resilience, Reconnecting and Recognition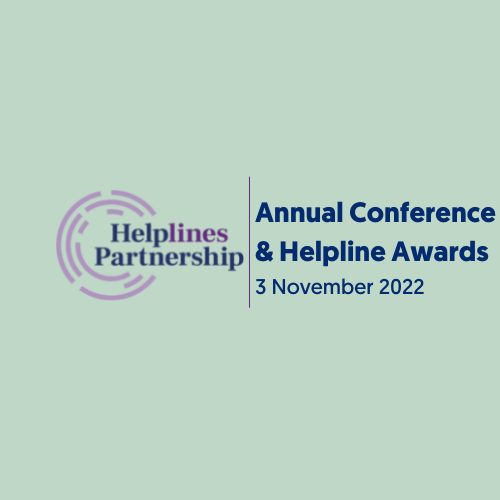 This year we are delighted to be holding our Annual Conference and Helpline Awards Ceremony at the Crowne Plaza in Birmingham.
The theme of this year's event will be Resilience, Reconnecting and Recognition.
This event will feature the following sessions:
Keynote Speaker - Vikie Shanks, speaker, author and campaigner
Member speaker Tanisha Jnagel from Respect
Panel discussion - Voice Over Internet Protocol, featuring segments from Call Handling, Your Co-op and BT
Four seminars:

'Promoting wellbeing within healthy boundaries'
Stella Pearson - Trainer and Consultant at Helplines Partnership

'The Big Research Project'
Sam Bromiley - Policy & External Affairs Manager at Helplines Partnership
and Elizabeth Rimmer - CEO of LawCare and Trustee at Helplines Partnership

'Resilient fundraising in a changing world'
Leah Selinger: Selinger Consultants and Senior Consultant at NCVO

'Hybrid working and wellbeing for helpline staff'
Amanda Chadwick: Amanda Chadwick HR and works with Croner, CIPD hrinform and Croner-i
---
Member Fee - £149+VAT
Non Member Fee - £199+VAT
Helpline Community Subscription Fee - £159+VAT
Book 3 places and receive 10% off overall fee OR one free additional place - email membership@helplines.org to make a booking that claims this offer.
Cancellation Policy
No refunds will be made for any cancellations however, you may transfer your place to an alternative attendee free of charge.
Cancellations must be in writing and emailed to: membership@helplines.org
If Helplines Partnership cancels the event we will let you know as soon as possible and issue a full refund. Helplines Partnership is not responsible for travel tickets booked in advance or any other costs.
---