Webinars
Webinars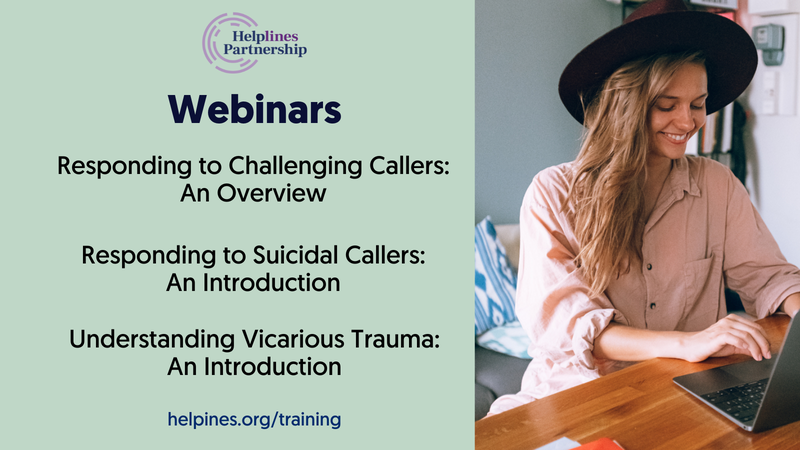 Responding to Challenging Callers: An Overview
Do you have contact with distressed, angry, repeat or otherwise challenging service users through the service you provide? If so, this webinar will provide key insights into the essential skills for supporting such contacts whilst staying within your service remit and practising self-care for you and your team.
Understanding Vicarious Trauma: An Introduction
Does the work you do to help others take a toll on you or impact you in some way? If so, this webinar will introduce the topic of Vicarious Trauma, how it differs from work-related stress and what strategies you can start to implement to reduce the risks.
Responding to Suicidal Callers: An Introduction
How confident are you that if a service user disclosed suicidal ideation, you could support them effectively? In this webinar, we will introduce a competency framework to improve your skills and understanding, discuss how you can make a difference, and provide some focus on how you practice self-care afterwards.
---
About
Coming Soon - Our webinars will be available as recordings to our Members for free on our new Membership Dashboard.
Our Webinars are also available as Inhouse Virtual sessions. These sessions will be longer and more interactive.
Duration
Membership Dashboard - 60 minutes
Inhouse Virtual Webinar - Between 90 and 120 minutes.
Channel
Virtually via Zoom (maximum 30 people per group)
Cost
Please contact training@helplines.org for more information
*Please note - member fees are dependant on status, turnover and size of organisations.
---