Does your service rely on volunteers?
Does your service rely on volunteers? Womankind Bristol tell us about the backbone of their service; their volunteers.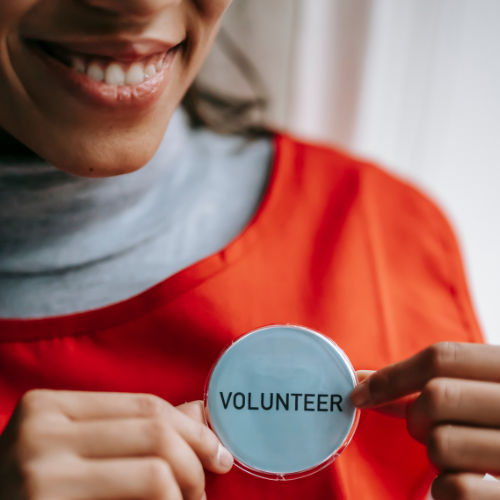 Volunteers - invaluable team members for a number of helplines, including HLP members Womankind Bristol. But how do we recruit and retain people willing to give their time for free; particularly in a cost-of-living crisis? Rae Pears - Womankind Volunteer Service Coordinator - shares her thoughts and experiences.
---
Our volunteers are the backbone of our volunteer support services including Womankind's Helpline. The Helpline supports hundreds of women every year to improve their mental health and well-being so they can experience a better quality of life.
Womankind's Helpline could not operate without dedicated volunteers giving their time to support the women and girls who contact us. We also have committed administration volunteers who support the staff to keep on top of the never-ending administrative work that comes from running a busy helpline.
Are you generally finding it harder to recruit volunteers nowadays? Why do you feel this is?
We have noticed how much harder it has become to recruit volunteers. We saw an amazing response during the Covid-19 pandemic when so many people wanted to offer their time to support others, especially in response to the growing awareness of the disproportional impact the pandemic had on women. If fact, many of our volunteers applied because they wanted to support increasing numbers of women who were experiencing domestic abuse.
Pre-pandemic and during the pandemic, we always had women proactively looking to volunteer their time and we barely had to advertise. Since then, the situation has changed, and we believe there are different reasons why volunteer recruitment has waned. One main reason is the cost-of-living crisis. Many people need to work more hours to keep up with rising living costs, and do not feel able to give their time for free. There is also the impact this is having on women's mental wellbeing. Our Volunteer Coordinators need to consider the impact that the increased pressures have on people to offer their spare time and to have the emotional capacity to support others, especially in a role like our helpline that offers emotional listening support to women who are often experiencing high levels of distress. We also wonder about the increase in demand for volunteers across the voluntary sector, and the impact this has with so many more organisations calling out for the support of volunteers, creating an environment where we are competing with other charities for a declining number of volunteers.
Are there any patterns to particular groups who are volunteering less?
A large proportion of applicants are women who are training to be counsellors, as this is a compatible volunteering role alongside their counselling training. However, this can mean many other groups of women are left underrepresented in our helpline volunteer team for example, women from working-class backgrounds, women from marginalised communities and women who identify as LGBTQ+ are under-represented amongst our volunteers. Bristol is a diverse city, and we both want our volunteers to represent the women we support, as well as ensuring all women who want to volunteer with us feel able to.
To this end, we recently updated our monitoring systems, with the objective of better understanding who is applying to volunteer with us. We hope to be able to see more clearly whether marginalised groups are not accessing our volunteering opportunities and better understand why that may be and what we can do to address any barriers to volunteering.
What can organisations like yourself do to attract and recruit more volunteers
We think the most important first step is to be paying attention to who is not in our volunteer team and be reflective and strategic, actioning any responses that may help increase volunteer intake from currently underrepresented groups of women who live within our communities.
It is evident that organisations need to have more robust recruitment and marketing strategies to ensure that our offer attracts a wider range of women. We take multiple approaches to this, we consider where we advertise our volunteer roles, aiming for a wide variety of places from universities to libraries and specific social groups for LGBTQ+ and other minoritised women. We also use a range of media approaches, from creating videos of volunteer testimonials for our website to growing our presence on social media and posting volunteer opportunities across these platforms.
We regularly review our training to improve its accessibility to our volunteers who come with different skills, life experiences, and socio-economic backgrounds. We also think about and have an awareness of how different intersections impact women's lives and their experiences of volunteering.
We believe it is vitally important that volunteers not only feel well prepared and equipped by their training to deliver the service but feel well supported within their work. From the beginning of our training, we talk about reflective practice and enable volunteers to feel safe and able to talk about how the work leaves them feeling, and think about how they manage, cope, and build resilience doing what can often be very emotionally demanding work. We offer weekly debriefs and group supervision, and the sense of community and support this offers ensures our volunteers feel well cared for and resourced to continue to volunteer for as long as they choose to.
---
At Helplines Partnership, have been committed to supporting organisations that provide non-face-to-face advice, support and information to improve general wellbeing for over 20 years. We champion the interests of our members and help them to build sustainability and deliver the best service they can for their users.