We talk to Myeloma UK about their Peer Buddy Service
We talk to Myeloma UK about their Peer Buddy Service

We caught up with Hayley Hepworth - Lead Myeloma Information Specialist at the organisation - who recently talked at a Member Space Event where she spoke about Myeloma UK's Peer Buddy Service. We were keen to find out more...
What is your role at Myeloma UK? Please introduce yourself.
I am the Lead Myeloma Information Specialist here at Myeloma UK. I work on the Myeloma Infoline and lead our specialised team in informing and supporting anyone affected by a diagnosis of myeloma or a related condition. The other half of my role involves managing the delivery of our Peer Buddy service and Discussion Forum. These services focus on providing holistic support to myeloma patients, family members, and carers.
What does Myeloma UK do, and who does the helpline serve?
Myeloma UK is the only UK charity with a dedicated focus on informing, supporting, and advocating for myeloma patients. We work to ensure that myeloma patients get access to the right treatment at the right time. We also provide a range of information and support services to patients, family members, and carers to help deal with a diagnosis of myeloma.
The Myeloma Infoline supports anyone affected by myeloma or a related condition such as monoclonal gammopathy of undetermined significance (MGUS), smouldering myeloma, plasmacytoma, and AL amyloidosis. We support people at all points of a diagnosis, all the way from initial investigations, treatment decisions and how to live well, to those who are coming to the end of their treatment options or are bereaved.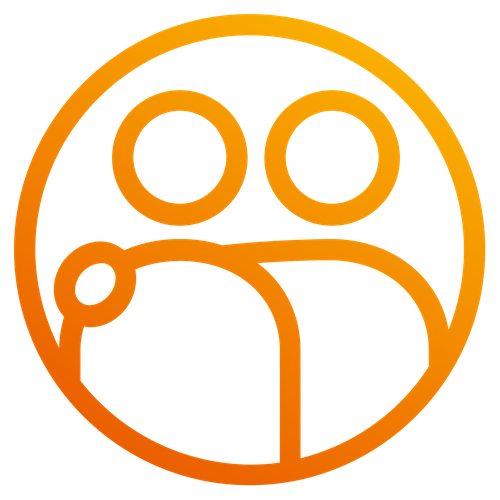 The Peer Buddy service at Myeloma UK is something we're really impressed by. Can you tell us how this service came to be at your organisation?
Myeloma is a rare and complex cancer. A myeloma diagnosis brings some very specific challenges that can be difficult for those outside the myeloma community to understand.
Additionally, when living with or going through treatment for myeloma or related conditions, patients may receive care that is mainly focused on their physical health and symptom management. Some of the other aspects of living with myeloma or related conditions can take a back seat, or there are challenges that a medical team can't always address.
We identified that this is where a Peer Buddy can help. We know how valuable it is to share your experience and hear the experiences of others. We already offer a couple of avenues for patients to talk to other patients, such as through our Support Groups and discussion forum, but we were hearing from patients who sometimes felt they needed more in-depth discussions and some protected time with someone else.
That's why we set up the Peer Buddying service. We wanted to be able to match people up who have relevant experience and give them the time and space to explore issues that they need to. Buddies provide up to six one-hour sessions via the phone or video call to someone and the session topics are led by the person seeking support.
We recognise that both patients and their carers or loved ones need support, so the Peer Buddy service is available to both – patients support fellow patients and carers support other carers. The peer relationship gives people an opportunity to talk about what they are going through with someone who has lived it.
What has been the main benefit of the peer buddy system to service users?
Matching people up with a Peer Buddy has shown clear benefits to people's wellbeing. All Peer Buddy service users shared that they felt more hopeful and more connected to others after their support, and their self-reported wellbeing scores improved across the board. When assessing the impact of the service, we also found that all survey participants felt better equipped to advocate for themselves or their loved one.
When we asked those supported through the Peer Buddy service what they appreciated most about the support, the resounding message was that our Peer Buddies regarded them as a whole person, not just a diagnosis. Our service users reported that speaking to someone who could understand their experiences on a personal level was of great value and 100% of service users would recommend the Peer Buddy service to others.
How did you 'recruit' people to be buddies?
We recruited volunteers by advertising the opportunity in our Myeloma Matters magazine (with a readership of around 3000) and our e-newsletter, which reaches 15,000 myeloma patients and their loved ones. We drew up role profiles, then had an application process where potential volunteers told us about themselves and why they wanted to volunteer for Myeloma UK. We had no specific criteria for prospective Peer Buddies to meet in terms of the treatment and care they had received; however, we did gather details of their medical experiences to ensure we could have a diverse range of experience amongst our volunteer pool. We also asked applicants to tell us what personal and social issues they would be willing to discuss – for example relationships, employment, living well with myeloma, and planning ahead.
Successful applicants were invited to a 30-minute informal interview. When interviewing we looked for people who had found an acceptance of their myeloma diagnosis. Most importantly, we wanted to find volunteers who understood how powerful it is to share their experience with someone else. As a responsible organisation, we also needed to ensure that volunteers were emotionally resilient, as we anticipated some of the supportive conversations may be traumatic or challenging.
Do you provide training for those involved?
Our Peer Buddies are all required to attend an online, interactive, two-day training programme, which equips them with the skills and insights needed to deliver the highest quality of peer support. Our training sessions cover a range of topics, including active and empathic listening skills; the importance of self-care and self-compassion when supporting others; and guidance for peers on how to share their story safely whilst implementing healthy boundaries.
We have developed further training after the launch of the Peer Service, when we identified common themes and challenges in support. It is important for us to be responsive to training needs to ensure our Peer Buddies feel confident in the support they are providing.
Peer Buddies also attend regular one-to-one and group supervision sessions. This is a safe space where Peer Buddies can celebrate successes within their support, as well as reflecting on things they may do differently in future. Supervision is important for Peer Buddies to share and address any challenging feelings that may arise during the support sessions, and this allows us to provide timely and appropriate support to them to ensure their own wellbeing isn't negatively affected.
Would you recommend setting up a system like this to other helplines?
Absolutely. Peer support provides a unique opportunity to positively transform patient and carer experiences. It embraces the human and social elements of living with a life-limiting illness and, therefore, fills an important gap in the support that healthcare professionals can offer.
To finish off, what would your main piece of advice for helplines be in this current difficult time?
The wellbeing of helpline workers is paramount. I would say by safeguarding the wellbeing of yourselves and your team members, you are better placed to provide the high quality of support to your service users that we all strive for.
Finally, how do you find being a Helplines Partnership member?
It's very reassuring that we can call upon the Helplines Partnership for support and guidance. Through the Helplines Partnership certification, I can feel confident that our helpline is delivering the best support possible. Additionally, the helpline skills training, and associated courses, are immensely helpful. This is particularly true for new starters, who can get a solid introduction to the principles of helpline support or add to their existing skillset.
---
At Helplines Partnership, have been committed to supporting organisations that provide non-face-to-face advice, support and information to improve general wellbeing for over 20 years. We champion the interests of our members and help them to build sustainability and deliver the best service they can for their users.
---